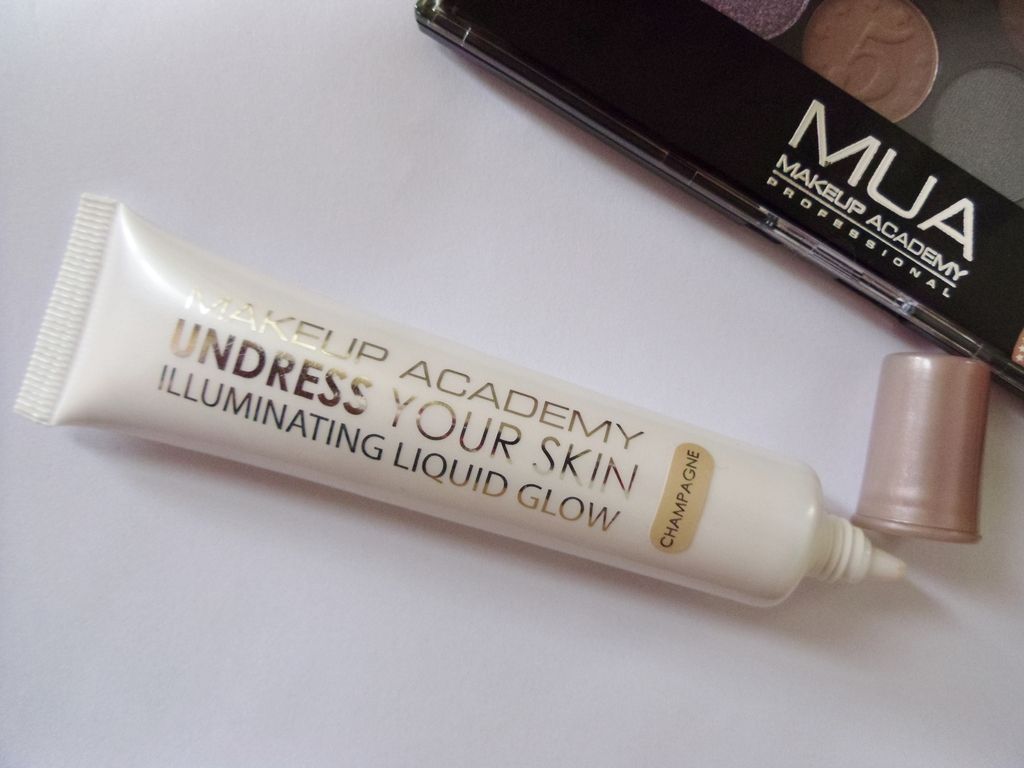 I've been wanting a liquid highlighter for the longest time after trying MAC's Strobe cream.. I was ready to purchase Revlon's illuminator the next time I go shopping, but the amazing MUA released their own range! The Illuminating Liquid Glow is available in three shades (pink shimmer, oyster and champagne) to suit all skin tones and costs just £4.
I immediately placed an order, and you would have seen my mini MUA haul if you follow me on Instagram!
There were not any reviews on this product when I placed my order so I wasn't completely sure of the shades but I purchased the shade 'champagne' which is just perfect. Although I did want to use it to mix into foundations as an illuminator, I actually prefer using it as I would a normal highlighter. It just gives the most beautiful glowy highlight whilst remaining natural-looking.
The texture is quite creamy and very easy to use! It's not runny, nor is it very thick.
I also want to add that it has a strange scent because I know scented beauty products can sometimes irritate people's skin.
| | |
| --- | --- |
| Before blending | After blending |
When used to highlight specific areas, the product blends in seamlessly and the shimmer particles in it are much more prominent. I know this probably isn't everyones cup of tea, but I'm in love with this.. The shimmer isn't really 'in your face'.. It's quite fine and subtle but still noticable! I love that you only need to use the tiniest amount of product because it means that the 20ml tube will last me a very long time.
When mixed in with foundation, it creates a lovely radiant glow! The shimmer particles are almost non-existent when the product is applied this way and just leaves a very 'lit from within' dewy base.. I THINK IT'S MAGIC. I feel like you do need to use a lot more product when using it this way, whereas you only need a tiny bit when highlighting your cheekbones, for example.
When mixed in with your base as an illuminator, it stays put all day and doesn't start to look oily at all during the day. When applied as a highlighter, it does start to fade during the day, but there is still definitely some of the product left by the end!
I'm literally obsessed with this! It's the most amazing everyday highlight/illuminating product everrrrr!
Let me know what you think if you've tried this!
Thanks for reading, Thahira x