TOP TO BOTTOM: Powder Brush, Small Stipple Brush, Blush Brush, Flawless Concealer Brush, Blending Eye Brush, Eye Crease Brush.
I think makeup brushes are so important to how your overall makeup look ends up.. Which is why you've got to make sure you have brushes which work really well.
The ELF brushes are very inexpensive, but are still of great quality! I don't have many ELF brushes, but the ones I do own are amazing and are used regularly! Here's a quick review of them!
I'll start off with probably the most well-known brush.. I remember years ago when almost everyone on YouTube were obsessed with this brush.. the girls were even using it for liquid foundation! I LOVE using this brush to apply powder to set my makeup, it doesn't make it too cakey and doesn't disturb or ruin the foundation I've got underneath. It's soft, very dense and picks up the perfect amount of product. The only problem I have with it, which others have had too, is that the handle has come loose unfortunately.
This is a really versatile brush and can easily be used to apply and blend out cream/liquid products, whether it's blush or even a contour product! I've also used it to highlight the tops of my cheekbones and it works perfectly! It's such a perfect cute size so it doesn't apply too much product.
I hardly ever use this super soft brush for applying my blush.. It's actually the most perfect brush for setting my under eye concealer. It's amazing, small enough to perfectly fit into the area and it picks up just the right amount of powder. This brush is also great for highlighting and contouring!
This brush, along with the Blush Brush, is one of my favourite ELF brushes! It's the best brush for concealer.. I dislike using any other brush for under eye concealing because nothing makes it looks as flawless as this brush! It just makes blending out concealer so effortless.

I use this brush to blend in concealer under my eyes, nose and chin and it does its job perfectly in all areas.. I can then use the same brush to apply powder under my eyes too and voila! Flawless, creaseless under eyes! It is just an amazing multi-purpose brush, and can even be used for highlight! It's dense and fluffy so it doesn't irritate the eyes!
This brush, and the Eye Crease Brush, weren't as soft as the brushes from the Studio line, but did soften up after I had washed them. They both shed quite a bit during the first few washes, too.
This is the brush I reach for if my usual blending brush needs a wash.. It does blend out my eyeshadow well, but it just needs a little more effort.
This is a brush I use when I want to carefully deposit some colour into my crease.. It's really small so it's just perfect for that! I also use it to highlight my inner corners, as well as concealing and blending around my brows to clean it up!
Unfortunately, I couldn't photograph this brush, but it's such a lovely brush for highlighting! It beautifully highlights my cheekbones, the bridge of my nose, cupids bow etc. It's usually what I opt for if I want to easily achieve a more subtle highlight, but you could definitely use it for a more dramatic highlight too!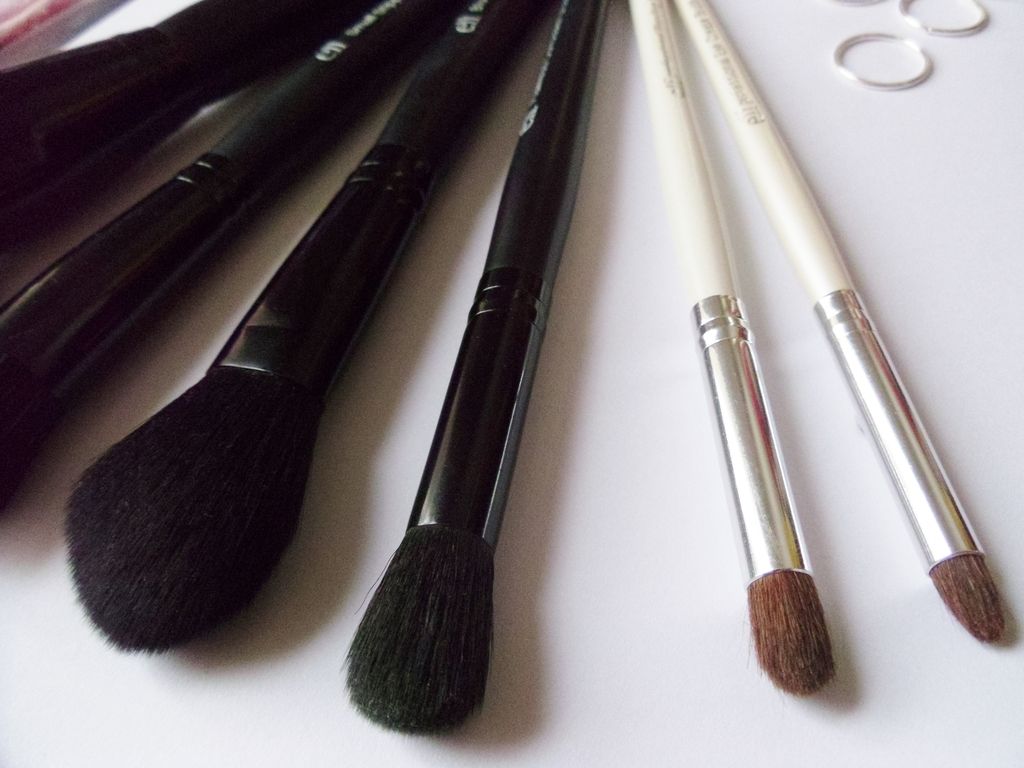 I think ELF brushes are amazing, and the fact that a few are quite versatile means that I can take less brushes with me when I'm not doing my makeup at home!
Let me know what you think of these brushes!
I'm SO happy that their UK website is running again, I can't wait to order some more of their products!! I've had to edit this post so I can update the price changes, but it's all still really affordable!
Thanks for reading, Thahira x