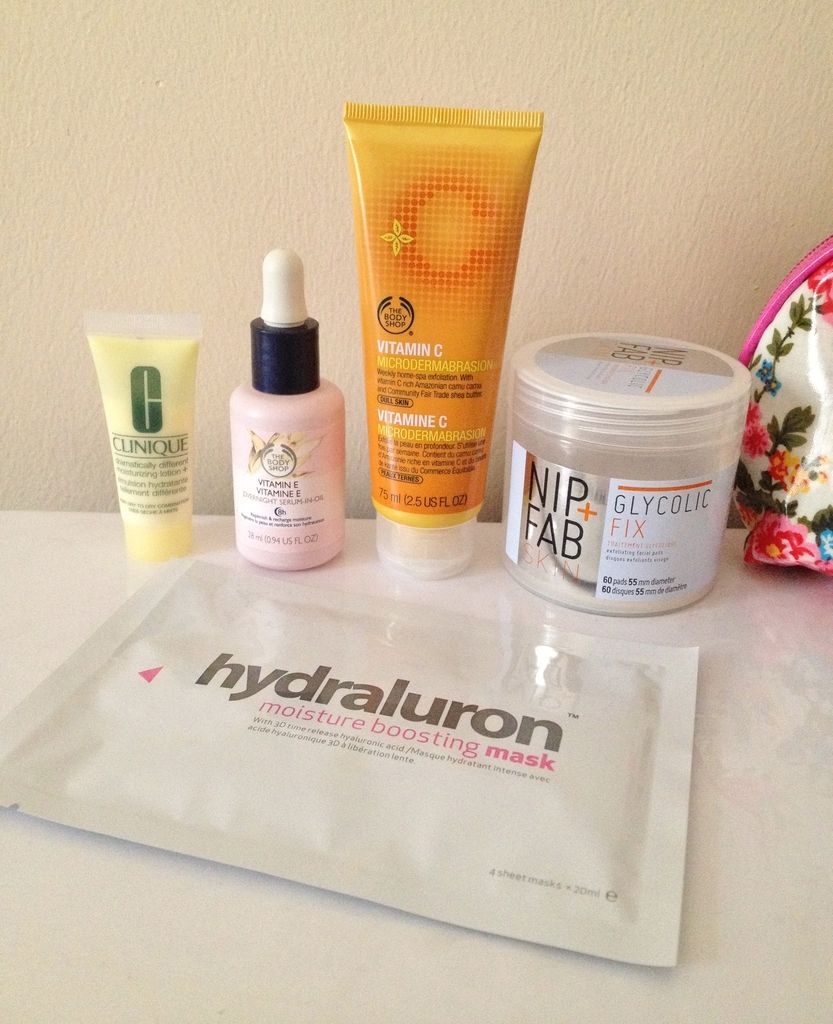 I've never really been into skincare, but I've recently attempted to up my skincare game after my skin dried out to crazy levels. Here are 5 of the products I've enjoyed using to bring my back to it's normal self.
Clinique Dramatically Different Moisturising Lotion +
I've been using this deluxe sample size the past couple of weeks and I've decided that it's hands down the best moisturiser I've ever used. It's definitely on the heavier side, but it's incredibly hydrating and just leaves my skin feeling plump and moisturised all day! I sometimes apply this in the evenings too because of how rich it is. I know I'll definitely be purchasing the full size!
The Body Shop Vitamin E Overnight Serum-In-Oil
I feel like my skin has almost gotten used to this because of how long I've used it for which is why I tend to use only when my skin is super dry, but the effects are still pretty amazing! My dry patches have disappeared, and my skin looks much more radiant and healthier the morning after applying this.
The Body Shop Vitamin C Microdermabrasion
This was a bit of an impulse purchase so I wasn't sure how effective this was going to be, however I'm glad to report that this is actually my favourite product out of the bunch! I use this once or twice a week depending on how bad my skin is. It feels really gentle on my skin (so gentle that I thought it wasn't even doing anything!), but it removes dry patches and exfoliates like nothing else! I saw amazing results from just the first use! It just leaves my skin feeling unbelievably smooth whilst brightening my complexion at the same time.
Nip & Fab Glycolic Fix Exfoliating Facial Pads
I initially used this every other day and it was just the perfect product! One side uses glycolic acid exfoliate, leaving my skin lovely and smooth within seconds. The other side has hyaluronic acid and blue daisy to hydrate but I never felt or noticed any difference so I just used my own moisturiser instead. I noticed a huge difference in my skin after I started using this and the condition of my skin was just amazing - scars were starting to fade, my skintone looked a lot more even, no more breakouts/spots and there were no signs of any dryness!
Due to how quickly it works, I now opt for this when I don't have the time to properly exfoliate my face, e.g. when I'm just about to apply my makeup and notice my skin is looking drier than a desert, *sigh*.
Indeed Labs Hydraluron Moisture Boosting Mask
Although it is very moisturising and soothing, the results really aren't as long lasting as I was hoping.. it's definitely more of a quick fix, but I still love using this mask nonetheless! I always feel like my skin looks the best it ever could after using this!
Let me know what your favourite skincare products are!
Thanks for reading, Thahira x