Since I haven't blogged properly in a while, I thought I'd ease myself in with a little haul as I really want to get back into the swing of things! I actually ordered these about 2 months ago, maybe more, and I'm so excited to finally share what I've bought!
From left to right: Copper, Golden, Chamoisee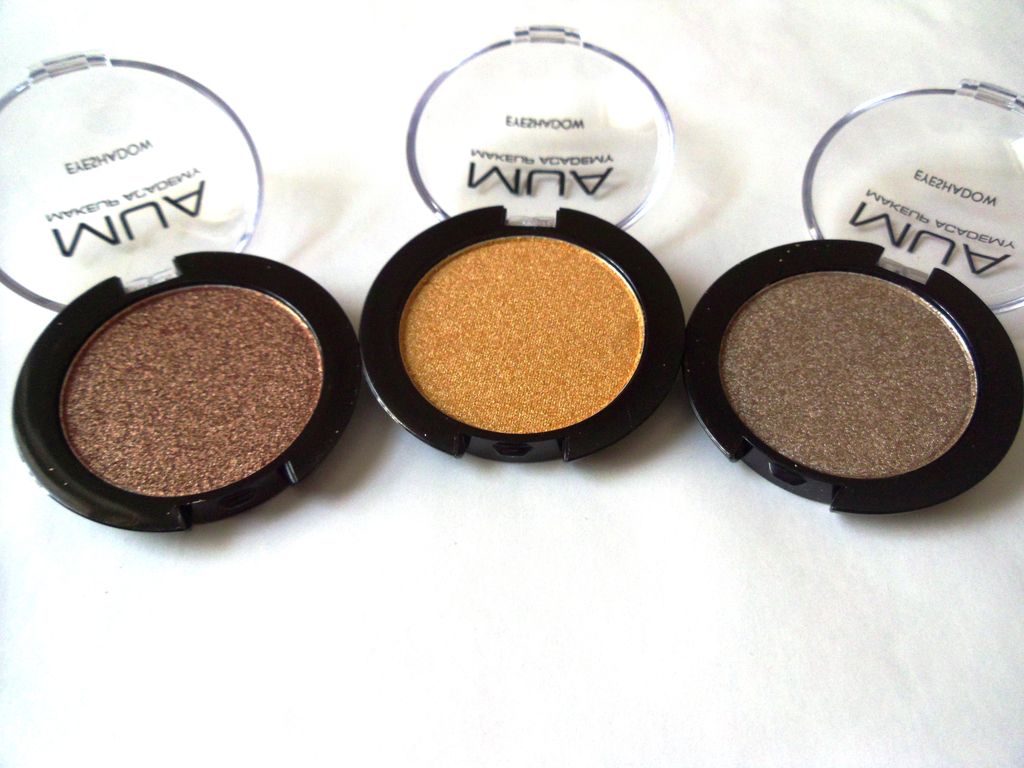 From left to right: Copper, Golden, Chamoisee
The MUA Cosmetics single shadows are possibly my favourite eyeshadow formulas, whether they're in the pearl or matte finish. I've always wanted to purchase some more shades but I always forget whenever I'm in store and it's quite difficult to tell what shades look like from online swatches so I've gone safe and picked up shades I know I'll get some use from. I ordered three shades - Copper, Golden and Chamoisee.
I've actually already reviewed the ones I already own (click here to read). These three are all incredibly pigmented and blend with ease. I find that I don't need to use a primer with these as they last a pretty long time by themselves and hardly crease. I also sometimes experience a little fallout with the darker shades, but it's nothing too bad. Golden is wayyy brighter than I thought it would be, but I can mix it with a darker shade to make it work for me.
My most used bronzer in my collection is from MUA Cosmetics (review here), so it was only right that I pick up another one to try! This is the Luxe Bronze & Sculpt Contour Kit in the shade Medium/Dark. I've actually wanted to pick this up since it released so I'm pretty glad to finally have it.
So far, so good. The highlighter is quite subtle once it's blended out, but it still gives a lovely sheen. It gives the appearance of a pretty 'lit from within' look! The bronzer is suuuuuper pigmented and I personally wouldn't contour with this shade, but I think it'll still work if you wanted to use it to contour with. The bronzer works perfectly to warm up my complexion and also use it as a blush, which is exactly what I bought it for! I've got to make sure not to load up too much product on my brush though because this is very pigmented and quite dark for my skintone. Both of the powders are quite smooth and blend out well!
I'm really into matte liquid lipsticks at the moment and have been after a true bright red for the longest time so I ended up also purchasing the Luxe Velvet Lip Lacquer in the shade Reckless. I also wanted to try the shade Dare but it wasn't there :(
(I have no idea why it's appearing pink in the photos, it's actually a bright blue toned red)
It applies evenly and smoothly, it's longwearing, and it doesn't feel uncomfortable. Although it isn't really as opaque as I would have liked it to be, I can't complain as it was only £3 and I do still love the formula of this liquid lipstick!
& That's everything I got!
Have you tried any of these?
Thanks for reading, Thahira x